Today, Dell is doubling the size of its Alienware peripheral suite, with options targeting a range of playing styles, tailored experiences and price points. From the deskbound marathon PC gamers to the maverick who maneuvers throughout multiple gaming environments, Dell delivers reliable high-performance gear to span more lifestyles than ever before.
Vincent Tucker, Senior Director, Alienware Peripherals said "We hope you tuned into our Alienware Update launch event where we welcomed two new high-fidelity headsets (AW720H and AW520H), our first ever gaming wireless keyboard (AW920K) and a sculpted right-handed wireless mouse (AW620M). Pairing effortlessly across the Alienware ecosystem, these new peripherals work in unison with your existing setup to help ensure comfortable uninterrupted gameplay."
Two new headsets with easy-to-reach controls and crisp audio via Dolby Atmos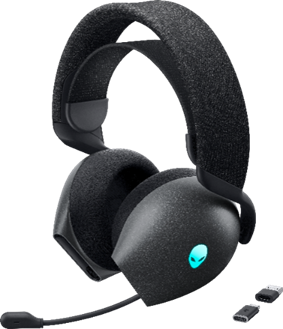 Alienware's Dual Mode Wireless Gaming Headset (AW720H) is designed for gamers seeking all-day comfort and immersion. Upon unboxing, you will first notice a wider suspension headband that promotes long-term comfort and soft memory foam ear cups wrapped in a breathable fabric to help keep your head cool when it's needed most. Once you put the AW720H on, adjust the sliding suspension band for a more personalized fit. Now you are ready to get connected by choosing between a reliable 2.4GHz USB-C wireless dongle PC connection or versatile 3.5mm wired integration that offers the flexibility to use your headset with other devices or compatible consoles.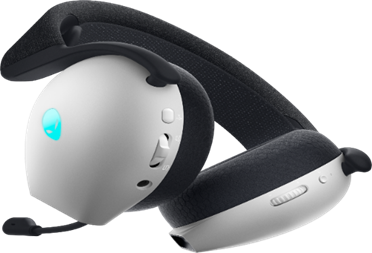 Detailed, precise audio is delivered with 40mm hi-res certified drivers and Dolby Atmos, creating 3D surround sound that is designed to amplify every in-game detail – from multiplayer games, RPGs, MMORPGs and any genre in between. The AI noise-canceling boom microphone helps reduce the impact of ambient sounds on your voice, allowing for crisp communication amongst your friends during high-intensity gaming sessions and leaving you with detailed game audio to keep you a step ahead of your opponent's next move. Use the on-headset controls to easily adjust and balance the game/chat volume without needing to tab out mid-game or lose focus on the quest at hand.
AW720H offers an impressive battery life of up to 30 hours and fast-charging capabilities that let you get up to 6 hours of battery life from just 15 minutes of charging. After a long day of gaming, retract the boom mic and tuck it away on the headset hanger of one of our Alienware displays, like the AW2524H, the world's first 500Hz IPS gaming monitor launching in North America on March 21st.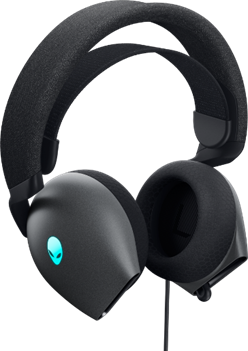 If you prefer a wired connection, our new Alienware Wired Gaming Headset (AW520H) delivers many similar features as the AW720H, as is it both lightweight and adjustable, supporting longer wear during extended gaming sessions.
Customizable connection and performance define the new Alienware keyboards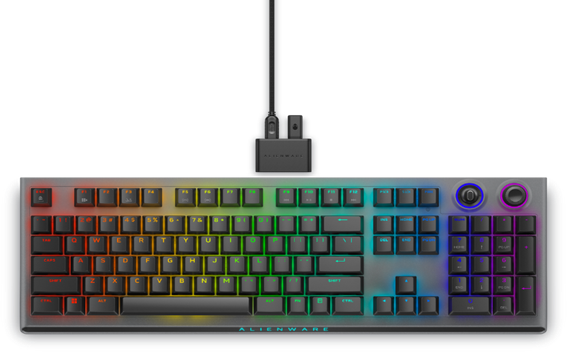 Our most customizable and responsive mechanical gaming keyboard yet, Alienware's first wireless gaming keyboard (AW920K) features Tri-Mode connectivity for flexible connection options across a range of gaming devices.
1. Experience responsive wireless PC gaming performance using the 2.4GHz wireless USB-C dongle – deploy the convenient dongle extender to have the receiver closer to the keyboard for maximum reception.​
2. Connect up to three different compatible devices via Bluetooth 5.1 – select the active paired device or the 2.4GHz connection using the selection button on the back of the keyboard.​
3. Plug in and play on your PC using the detachable USB paracord cable.
Enjoy undisturbed gameplay with up to 42 hours battery life on 2.4GHz dongle connection (thanks to magnetic snap-on, charging technology) or up to 46 hours battery life on Bluetooth connection.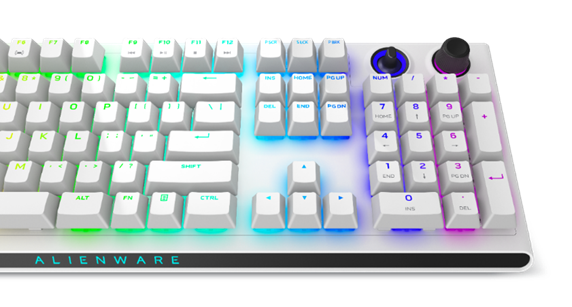 Programmable Rocker Switch and Dial allow you to make quick adjustments to control media while keeping you concentrated on the game. Now, you can easily start and stop your favorite music, skip songs and adjust volume in a breeze without the need for third-party devices – all you need is Alienware Command Center (click here for more details). With over 100 million actuations, the Tri-Mode Wireless Gaming Keyboard comes standard with high precision, best-in-class CHERRY MX Red switches that deliver fluid strokes, PBT double-shot keycaps for reliable durability, per-key AlienFX RGB lighting to allow your inner gamer to uniquely shine through and anti-ghosting and N-key rollover for precise control.
If you are looking for a more streamlined and compact design, the Alienware Tenkeyless (TKL) Gaming Keyboard (AW420K), which debuted last fall, is now available in the new Lunar Light colorway.
Comfort, precision and accuracy: meet our new wireless gaming mouse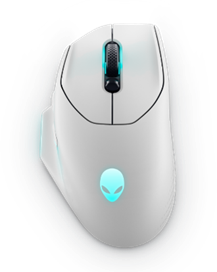 Created with right-handed gamers in mind, the new Alienware Wireless Gaming Mouse (AW620M) prioritizes comfort, precision and accuracy, featuring our leading-edge sensor technology and patent-pending magnetic-force L/R keyplates. With up to 26,000 DPI, 650 IPS, and 50G max acceleration, you can expect speedy, accurate clicking and no angle snapping for reliable precision. For marathon gaming sessions, the 2.4GHz wireless dongle connection offers up to 140 hours of battery life on a PC, and if you're in a pinch, quickly recharge for just 5 minutes to get up to 10 hours of continuous gameplay.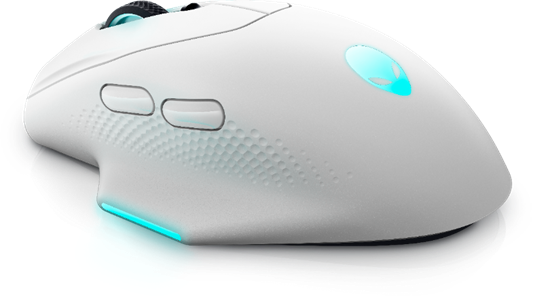 Joining our full range of symmetrical gaming mice (720M, 610M and 320M) this new full-size right-handed mouse features an asymmetrical shape designed for long-lasting comfort along with a dedicated thumb channel to accommodate palm-style grips, which are ideal for RPG & MMO games. The tactile textured grip zones offer complete control, and the DPI slider placement on the top of the mouse allows for easy DPI selection while in-game. It has a balanced weight and comes with a lightweight USB paracord cable along with a 1000Hz wireless polling and dongle extender to experience virtually lag-free performance.
Dial it all in with Alienware Command Center, the ultimate in customization and convenience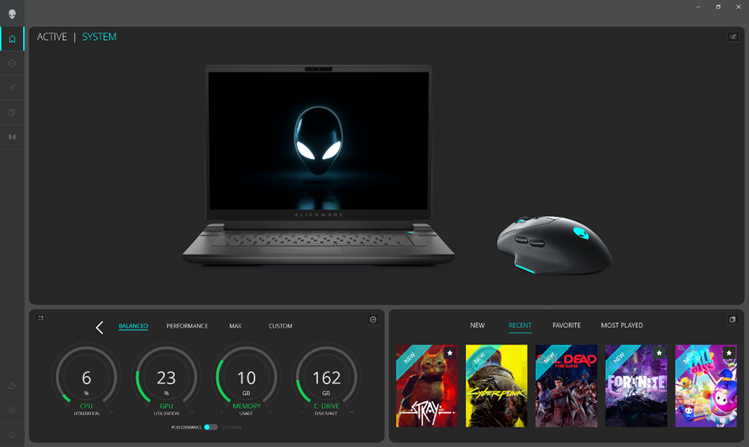 Each of these new peripherals can be harmoniously connected to your gaming ecosystem and easily managed by Alienware Command Center (AWCC), a centralized hub that allows quick access to settings such as game-specific profiles and themes, lighting, macros, audio controls and overclocking[ix]. With our new peripherals, you can easily customize AlienFX settings such as lighting effects and colors on each device individually, in groups, or by game title. Command Center 5.5 is free and available for anyone to download, as long as your PC meets the tech requirements.
Available next week only on our new 2023 Alienware and G Series laptop lineup is Command Center 6.0, which has been completely redesigned. This is more than just a software update, it is a new architecture – built from the ground up – featuring a new, intuitive, and dynamic user design.